Première Classe, Paris launches Spring/Summer 2022 collections
The list of exhibitors on the press release showed that there'd be at least ten hat companies exhibiting. Most of these brands I knew well, but not all. As expected, the majority were from Italy, where the major fashion manufacturers were here together after such a difficult eighteen months. Other recognised companies were from Germany and the Netherlands.
Fashion, style and the materials certainly moved on to open the doors to an exciting new spring/summer 2022 season. There were fine braids, eco styles, complicated mixes of material, crochet, touches of lace and intricate Panama weaves.
So who was showing – and what caught our eye!
On the Grevi stand……
Lots of crochet – a good mix of  colours, fabric swathed bands and small prints. Metallic braids, lacy sunhats, natural straws, wide brims, soft yellow, green, blues and a touch of red.
Grevi is one of Italy's historic brands, it is feminine, young with a leaning towards vintage, and sell internationally.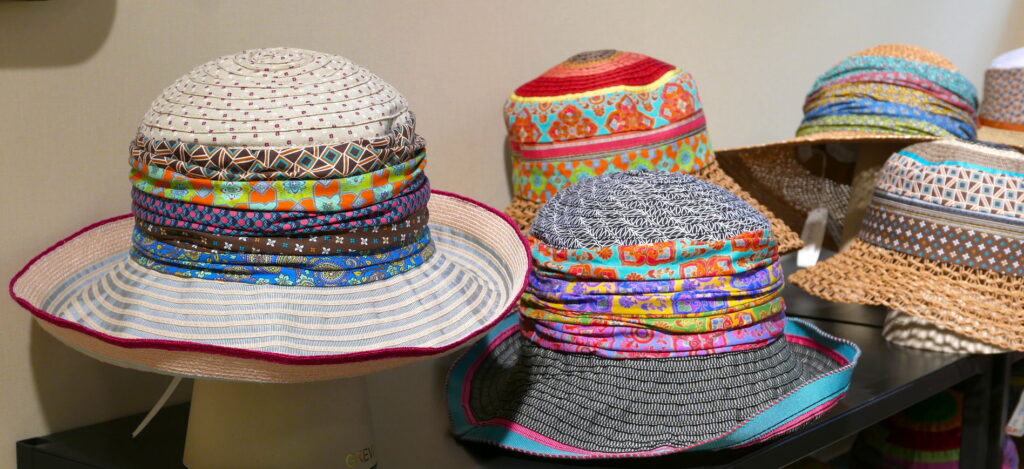 Bronté from the Netherlands showed a wide range of Panama hats across a large selection of new shapes, for both men and women.
Centre stage was a beautiful black and white intricately woven wide brimmed trilby that was just surperb. Many visitors to the show stopped to admire this style, one that emphasised the craftsmanship of the Ecuadorian people.
Also for summer 2022 were lightweight felts, and a collection of braided hats in a crushable man-made straw.
Many people both on stands and in the press office mentioned the loss of buyers from the Far East, particularly from South Korea and Japan. Also few Americans and no English!
Compared to a decade ago Premiere Classe has lost many of its highly skilled couture makers such as Borsalino and Philip Treacy. They have been replaced with more commercial brands, which is maybe what the market requires, however it is a great loss to this exhibition to loose such gifted craftsmen and heritage brands.
Marzi Firenze has been exhibiting at Première Classe for over 30 years. Their millinery skills are unsurpassed in Italy, with quality, style and elegant collections that are exported around the world.
This season it included a number of styles in braid, both casual hats with a metallic thread (see right), or wide brims in shiny Swiss braid for that special occasion (see below).
Four Italian labels, three from Florence Luca Della Lama, Bettini and Catarzi with Ferruccio Vecchi from Monteppone showed collections that were affordable, well designed and mass produced.
These companies also design and make for leading clothing brands, therefore they have a reputation for quantity and flexibility.
Maik Schulz and Ulrike Simonowners of the brand "bedacht'were thrilled to be showing their collection for the very first time at Première Classe, be it during a pandemic. They showed easy wear young styles, taking in trends, for both men's and women's, in fabric, braids, knits and sinamay. With a huge following in Germany and across Europe they are both passionate about headwear. We wish them well.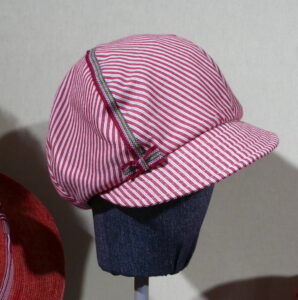 The Anthony Peto brand is a leader in predominantly men's fashion with a strong following in Japan. Their bold statements, love of colour and use of fabrics always brings a smile
This season they showed unisex sunhats in bold leafy prints, soft crochet Panamas in subtle colourways, contrast striped beanies and berets, and large-check fishing hats.
It had been a difficult year for the brand. Their shop in Dublin had been closed for months due to Covid, and it was therefore decided not to renew the lease. Whilst their shop in Paris had surprisingly seen far more customers, especially for formal/occasion wear. The loss of virtually all Far Eastern buyers at the European trade shows meant that sales meetings would take place on Zoom with collections and samples sent by post. Not the easiest system for selling.
Tesi is traditionally a menswear manufacturer. However, for the last 7-8 years they've extended this range with a ladies collection, very successfully I might add. They are a confident brand that work with some of the world's most renown labels, and are able to 'hit a note' with new looks and materials.
This season for the ladies they showed braided cloches in strong colours with 'see-through' PVC brims and dainty tulle hats with matching veils, together with a range of coloured Panamas for men.
Time was short, but we did manage to hop on and off of these 3 stands.
It was certainly a 'challenging' show for exhibitors and visitors alike, especially for the companies who continued to show here at Première Classe with the dark clouds of Covid hanging over their heads.
The collections for summer 2022 were brilliant. Most ranges are still available for international buyers so refresh your shelves and captivate passers by with your spring/summer windows. Whilst we all look forward to a wonderful summer!
The next session of Première Classe will be held once again in the jardin des Tuileries from the 4th– 7thof March 2022.